Now I am in charge of a secretariat of Hakata International Craft Association. I am not a Hakata artisan, but enjoy arts and crafts in my daily life.
On the other hand I enjoy folk performance "Hakata Niwaka (Stand-up comedy)". Our Hakata Niwaka association has succeeded to the intangible local cultural asset of Fukuoka City "Hakata Niwaka". My stage name is Koganeiro and I'm in charge of Shamisen (a long three stringed Japanese guitar).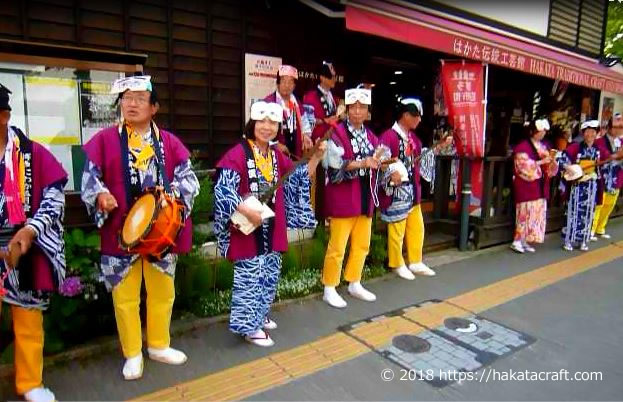 "Hakata Niwaka" is the kind of word game performance with half face mask and talking in Hakata dialect. Homonym in the conversation leads to the punchline. Ironic topic increases humor in the story. The performer and the listener need intellectual work.
In "Hakata Dontaku Festival" held during golden week, we stand on the stage here around there in Fukuoka-City. Loud laugh from audience always bring joy to us and blow off our tiredness. You can enjoy our stage in daily life. Sometime we are invited to the celebratory gathering and also perform at Hakata Traditional Craft and Design Museum once a month.